PHOTO YODOBASHI
YODOBASHI CAMERA ONLINE PHOTO MAGAZINE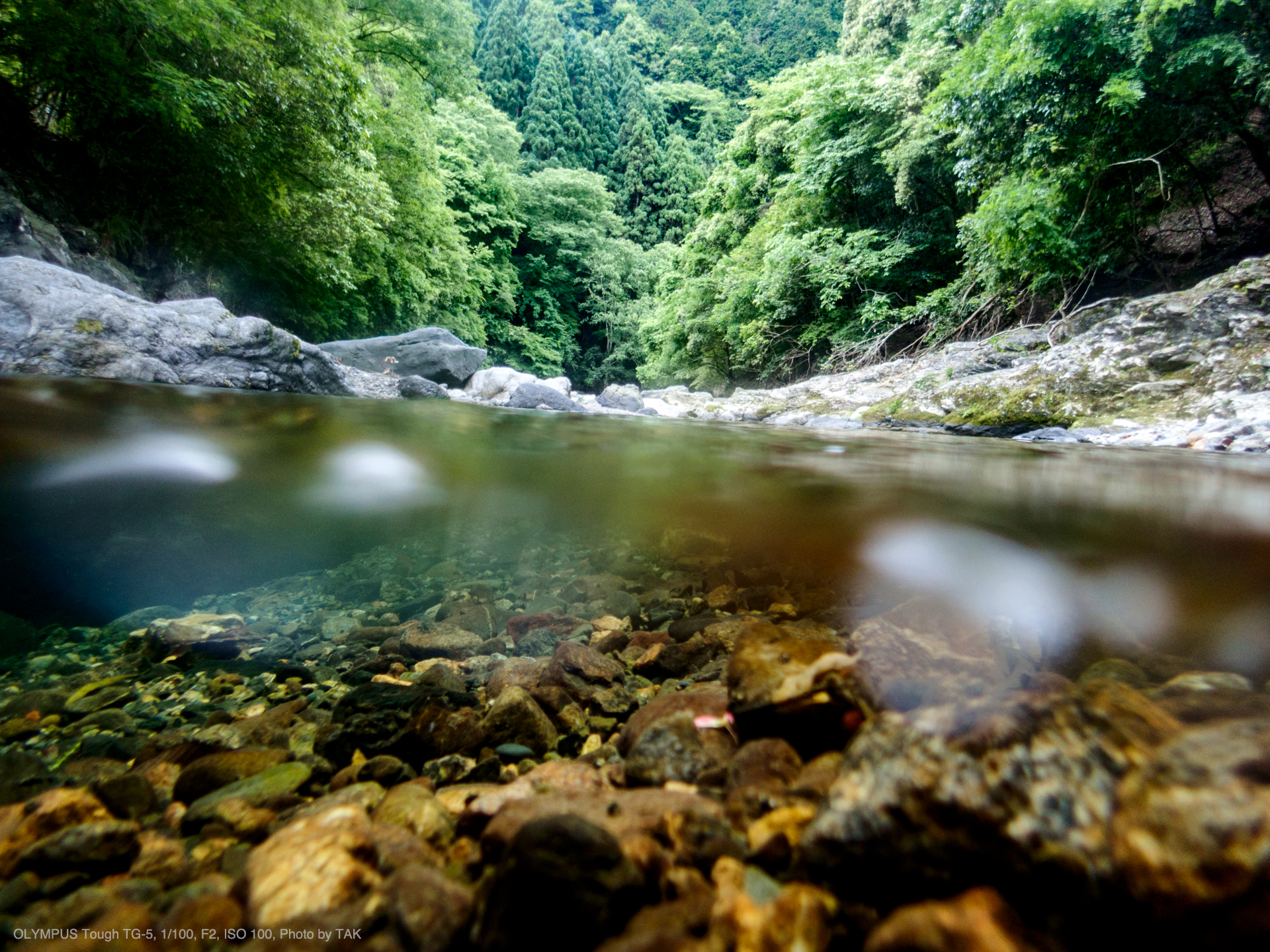 OLYMPUS Tough TG-5
/ SHOOTING REPORT
Most people believe that cameras must be used most carefully in tough situations because of their precise nature. While we do have many weather-resistant digital cameras to choose from, photographers still want to keep their cameras away from water and moisture. With the Olympus TG-5, we have nothing to worry about because it's designed to be used under tough conditions. The Tough series has been a leader of so-called "tough cameras." It has been been upgraded significantly since the first model was released and highly rated by outdoor activists. This latest model features the new "Field Sensor System" incorporating GPS, temperature, air pressure, and azimuth sensors to link a variety of tracking information to images. In addition, image quality is expected to have improved by the F2.0 25-100mm equivalent zoom lens and the new back-illuminated CMOS sensor with purposefully reduced number of pixels. Yes, it does have so many other functions and I will detail them one by one.
( Photography & Text : TAK )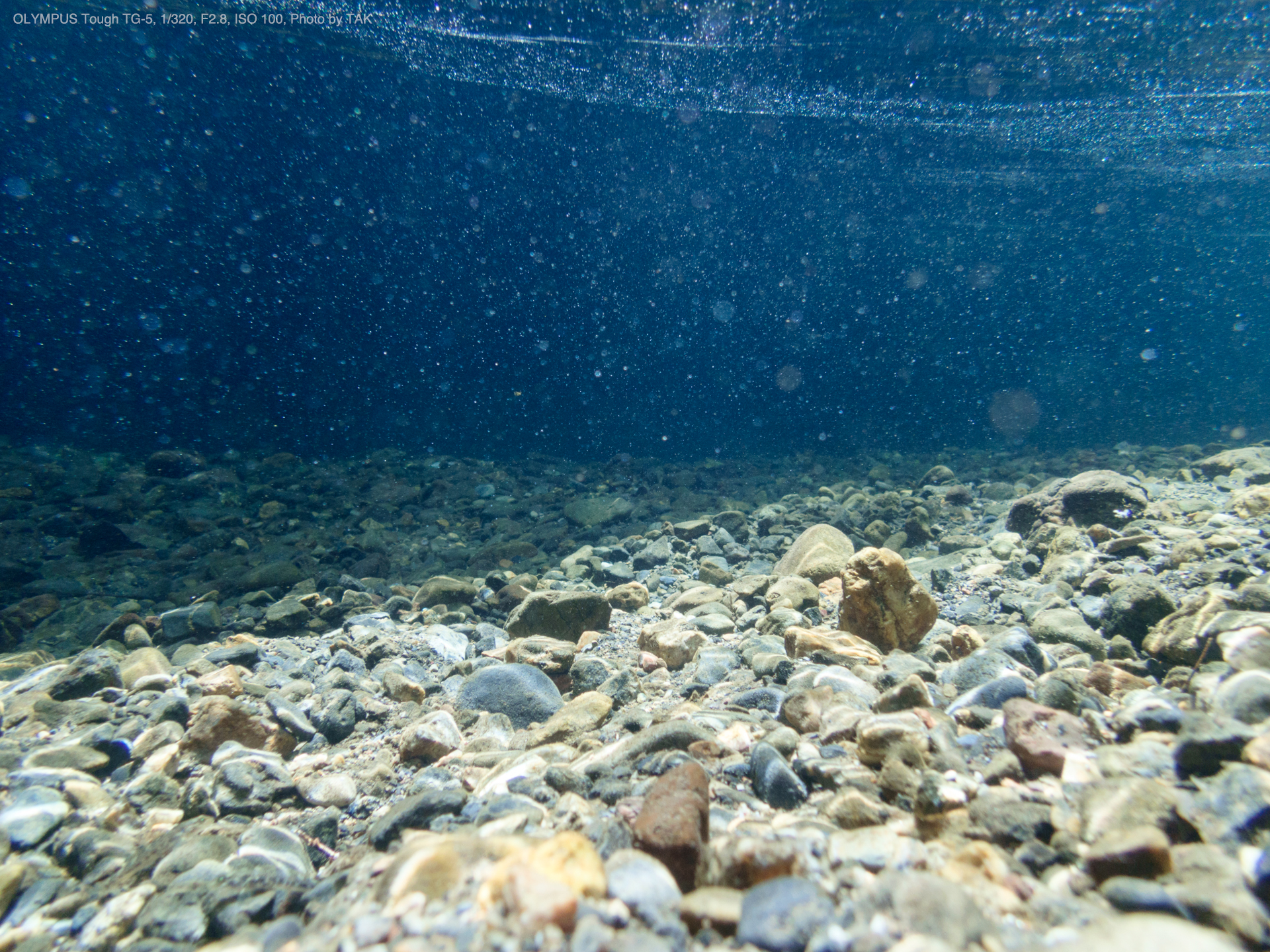 Rugged design and many attractive shooting modes
The "ceremony of diving" was held in a fresh stream in northern Kyoto. I set the shooting mode to "underwater snap mode," but I needed some courage because I use non-waterproof cameras regularly. 1, 2, 3, dive! Of course, I had no problem as it's waterproof up to 50ft/15m. Because I could use 1/125s shutter at F2.8, the bubbles look still and sharp. This image reminds me of my childhood. When was the last time I played in a river? According to the Field Sensor, the air pressure was 1011 hPa, the water temperature was 13.3 degrees in Celsius, the depth of water was 0.1 meters, and the azimuth of camera was south-east. By the way, this camera is freezeproof to 14F/-10C. Hmm, l can even shoot winter sports, too.
One of the best ways to demonstrate the character of this camera is shooting video underwater. Not only can it record 4K videos, but it records high-speed videos (Full HD at 120fps, HD at 240fps, and SD at 480fps). I never knew how bubbles dance until recorded them with this camera.
---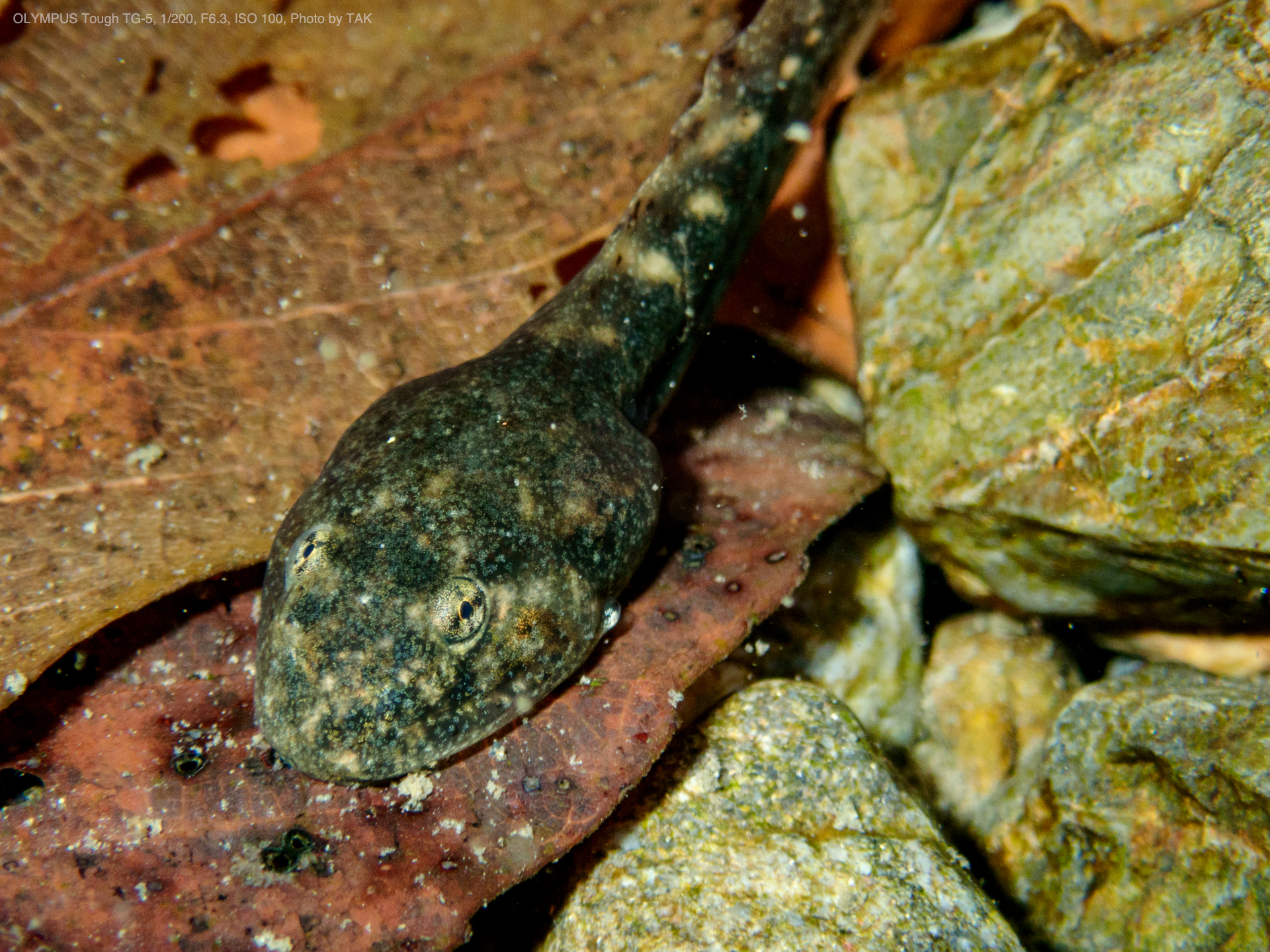 Can macro photography be any cooler?
The TG-5 also features a variety of macro modes including the "underwater macro mode" shown above. The subject is a tadpole which is only 3cm long, but looks like a giant creature on this image. Thanks to the image processing optimized for underwater photography, the color reproduction is perfect. I'm sure this is the benefit of using a long-seller series as it has continued to improve over years.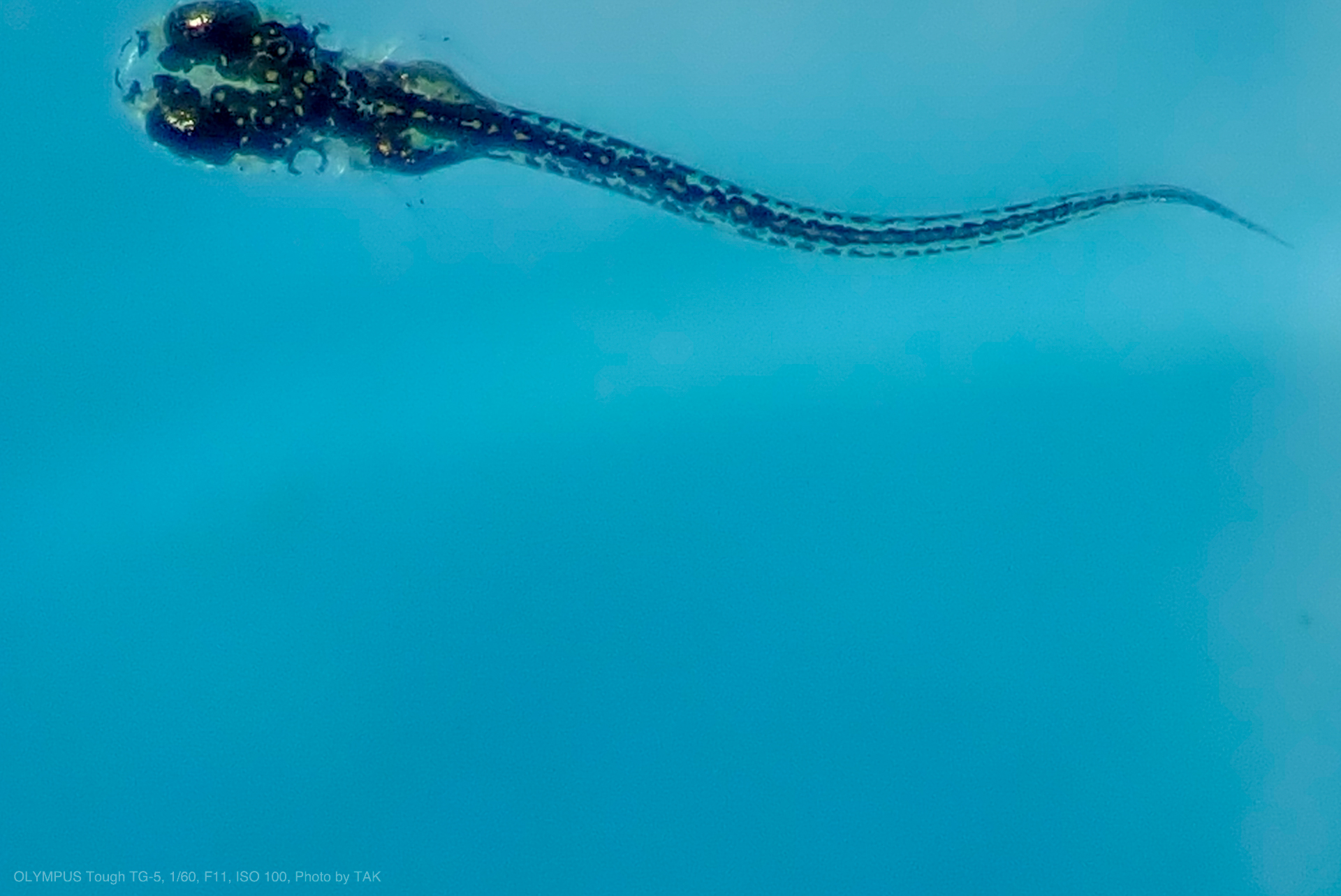 Now, let's land and try the "microscope mode." I poured a small amount of water into a shallow glass container and put a baby killifish. They say it can magnify up to at 44.4X, but I never needed such high magnification to shoot this image because the focusing and composing were pain! I mean, the baby killifish kept moving to all directions. Do you mind that it's slightly out of the frame? Don't worry.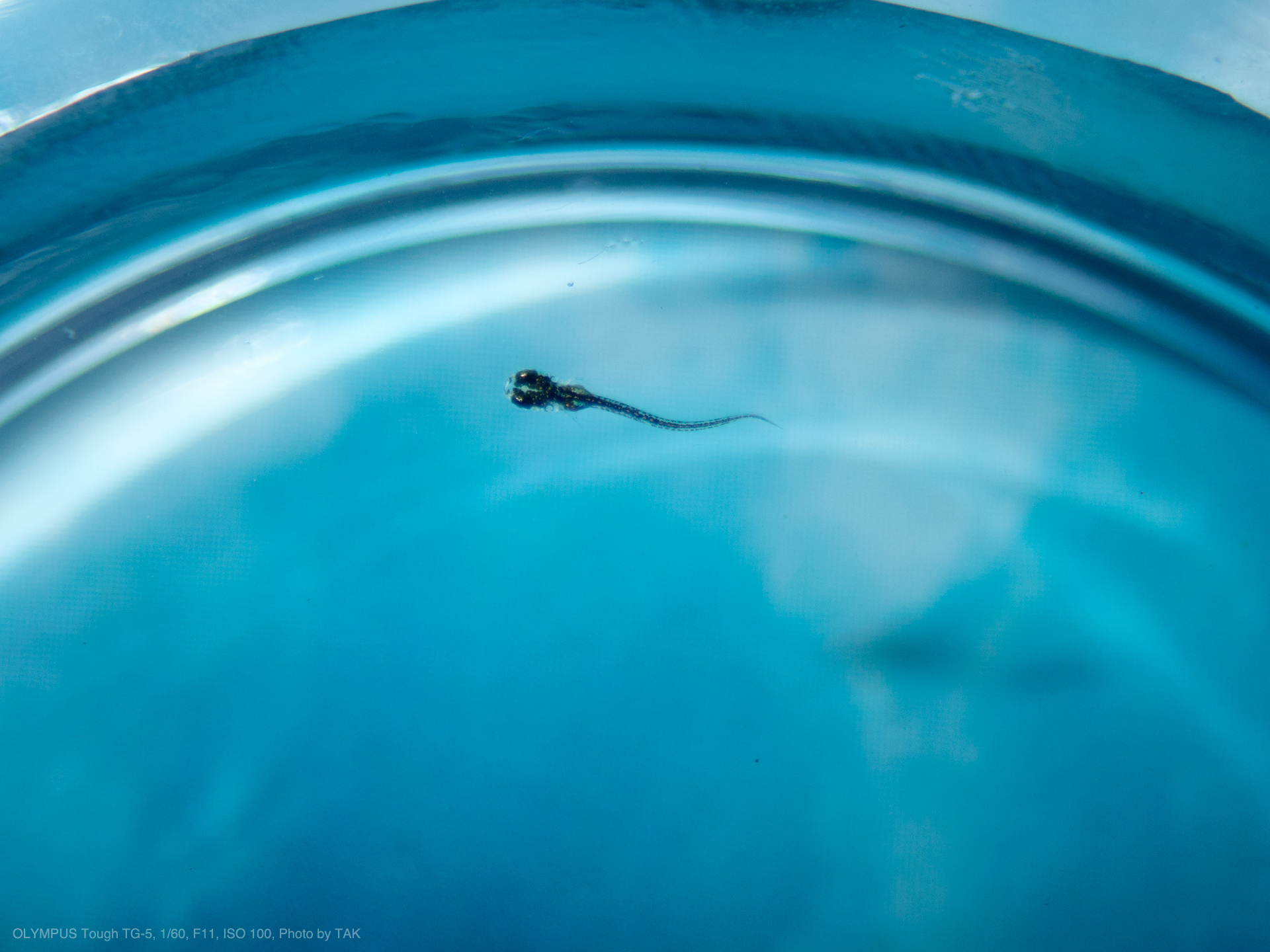 While this is the JPEG image developed from the same RAW data using a PC software, the last image was the SOOC JPEG. Strangely enough, the both images have 4000x3000 pixels. From what I gather, the SOOC JPEG image is made by interpolation and the composition reflects very the LCD display while shooting. In other words, at the microscope mode, you can not only observe at high magnifications carefully, but also shoot it whenever you want. And, you can always crop freely afterwards. This is one of the benefits of having RAW data.
Next, let's try the focus stacking. While cameras with short focus distance are convenient, you may end up with mass-producing shots that are artistic with extremely shallow focus depth. Imagine a shot of an insect. When only the eye is focused and everything is out of focus, people don't even know what the subject is. And, we don't want that to happen with a camera like the TG-5 which we expect to focus on the entire subject. Olympus solved this issue by the technology "focus stacking." By continuously recording images at varying focus points and blending them, you can get one image with a deeper depth of field. Yes, people can tell what the subject is (the output is JPEG only)! The subject of the two shots above is moss on the tree. The one with focus stacking looks better for recording purpose. Because of the nature of the shooting mechanism, a tripod is recommended for the best result. But, this one shot handheld looks good because of the ample amount of light.
---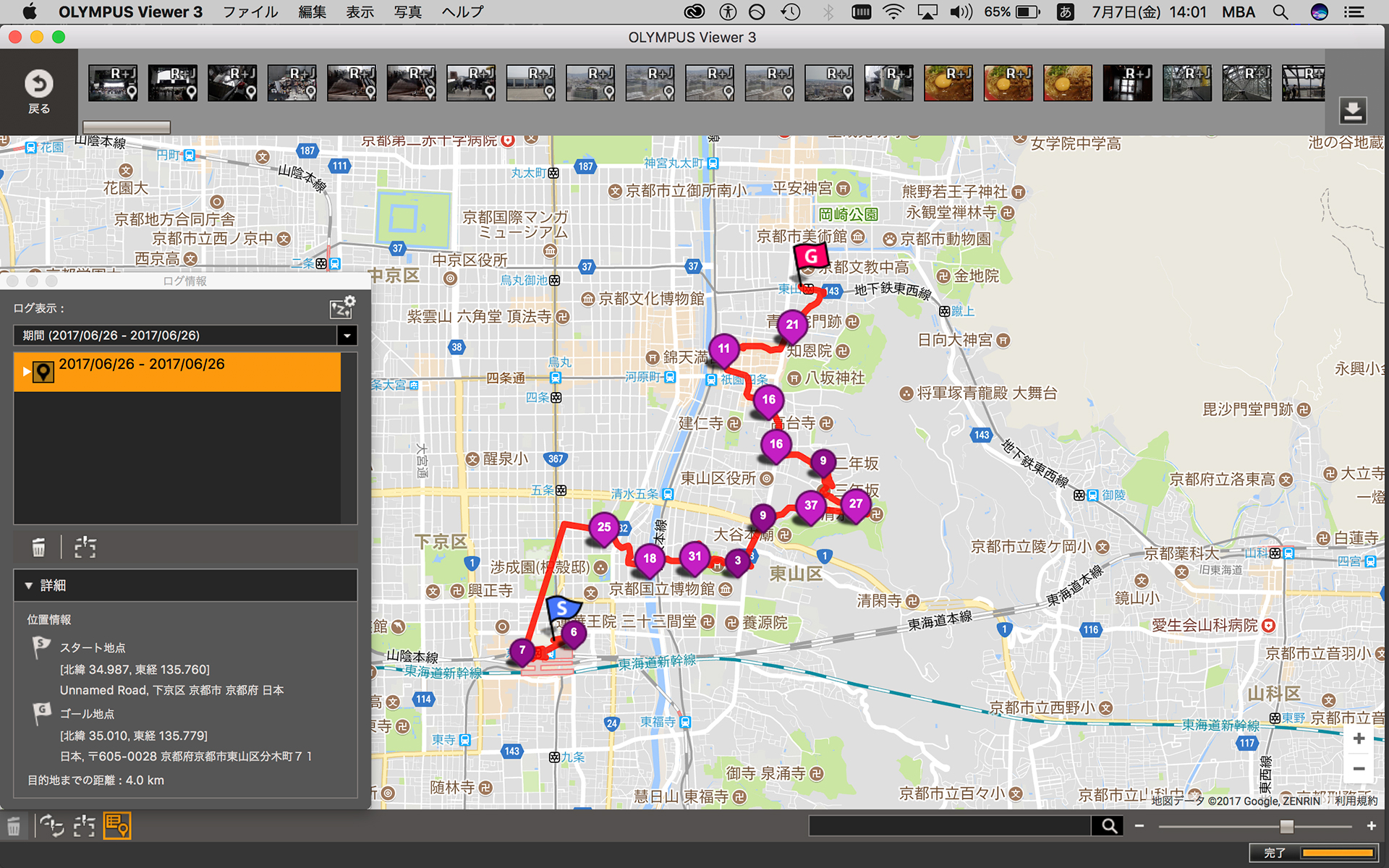 Field Sensor System visualizes activities
Just turn the "Log" lever on the top cover to start recording location information though you have to wait until it finishes initial tracking. Always keep the A-GPS information up to date via the smartphone App "OI. Track" for faster tracking. The image above is a screenshot of the PC software "Olympus Viewer" showing the track of my walking in Kyoto city. The numbers on each location indicate the shots I took there and by zooming in you can see more locations in smaller map scale. The long straight line on the left shows my movement by subway where GPS tracking becomes harder. Anyway, it's interesting to eyeball how I wandered.
The start point was Kyoto station. I went upstairs and downstairs to see if the camera records the changes of elevation. Of course, it did a perfect job. It says that the starting point was at 54.9m and the rooftop park was at 106.6m.
Now, let's look at the screenshots of the smartphone App "OI. Track."
As you can see, all kinds of tracking information can be linked and layered to images. This makes walking so much fun, let alone outdoor activities such as mountain climbing, trekking, or cycling. It's very nice to see how far I walked and how high I climbed.
I really like the image with a tracking information overlay. It's super cool! The azimuth information clearly shows that the street goes between east and west.
---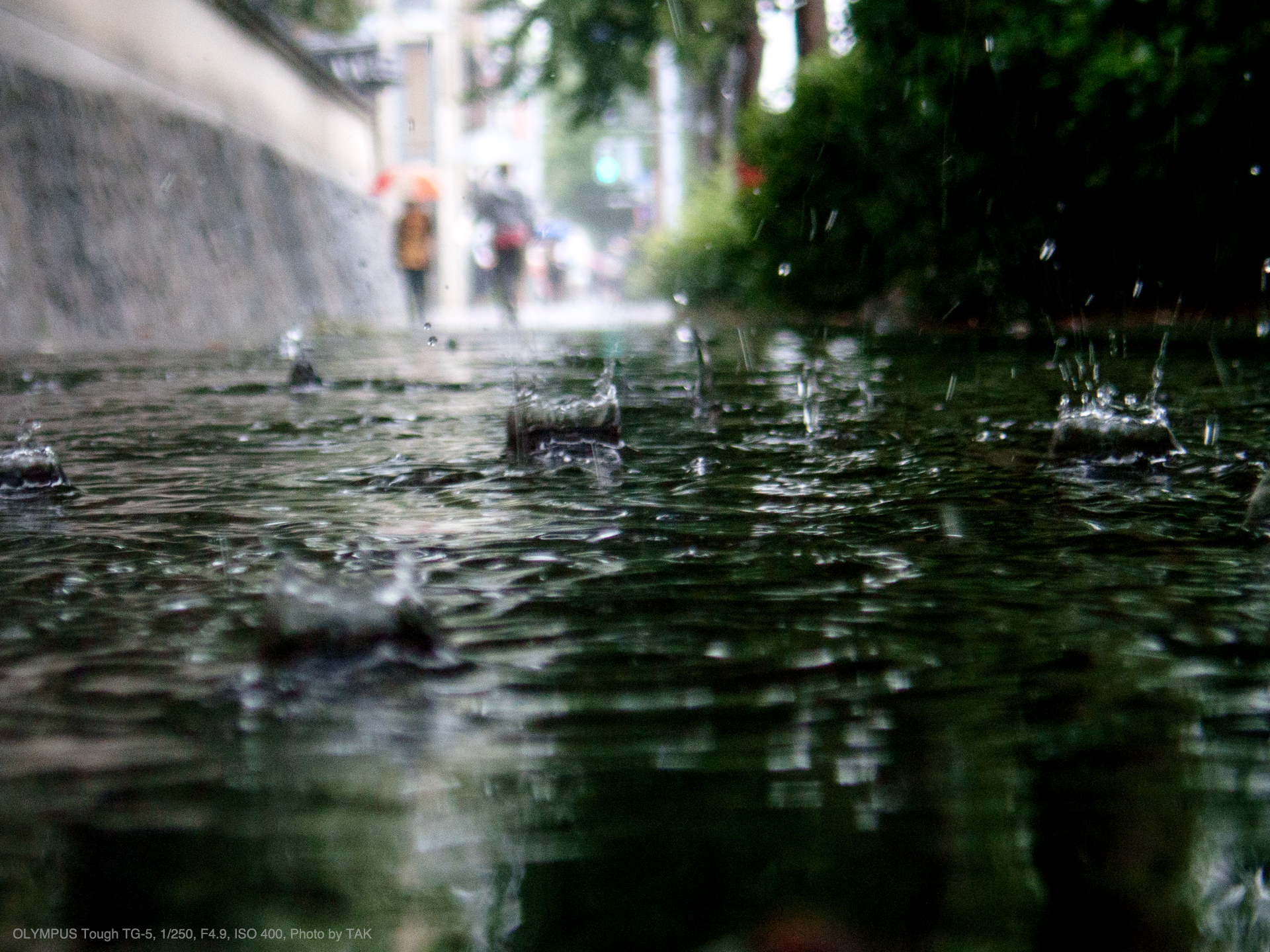 Image quality decent enough to work as a main camera
Although we know things look emotive with rain, we hesitate to shoot with an ordinary camera when it rains cats and dogs. With the TG-5, you can wait until it rains again. I took this shot soaking the bottom of the camera in the puddle. Can we take such risk with other cameras? Never! I zoomed in to the 100mm equivalent tele-end and shot it wide open. Nice bokeh, isn't it? This makes me believe the lens is very good. The high sensitivity performance and tonal expression are great as well. Too great for a compact camera with a 1/2.33-inch sensor! Speaking of sensor, the number of pixels has decreased from 16 megapixels to 12 megapixels. This should work to improve the light receiving rate. Olympus knows that image quality isn't solely determined by number of pixels.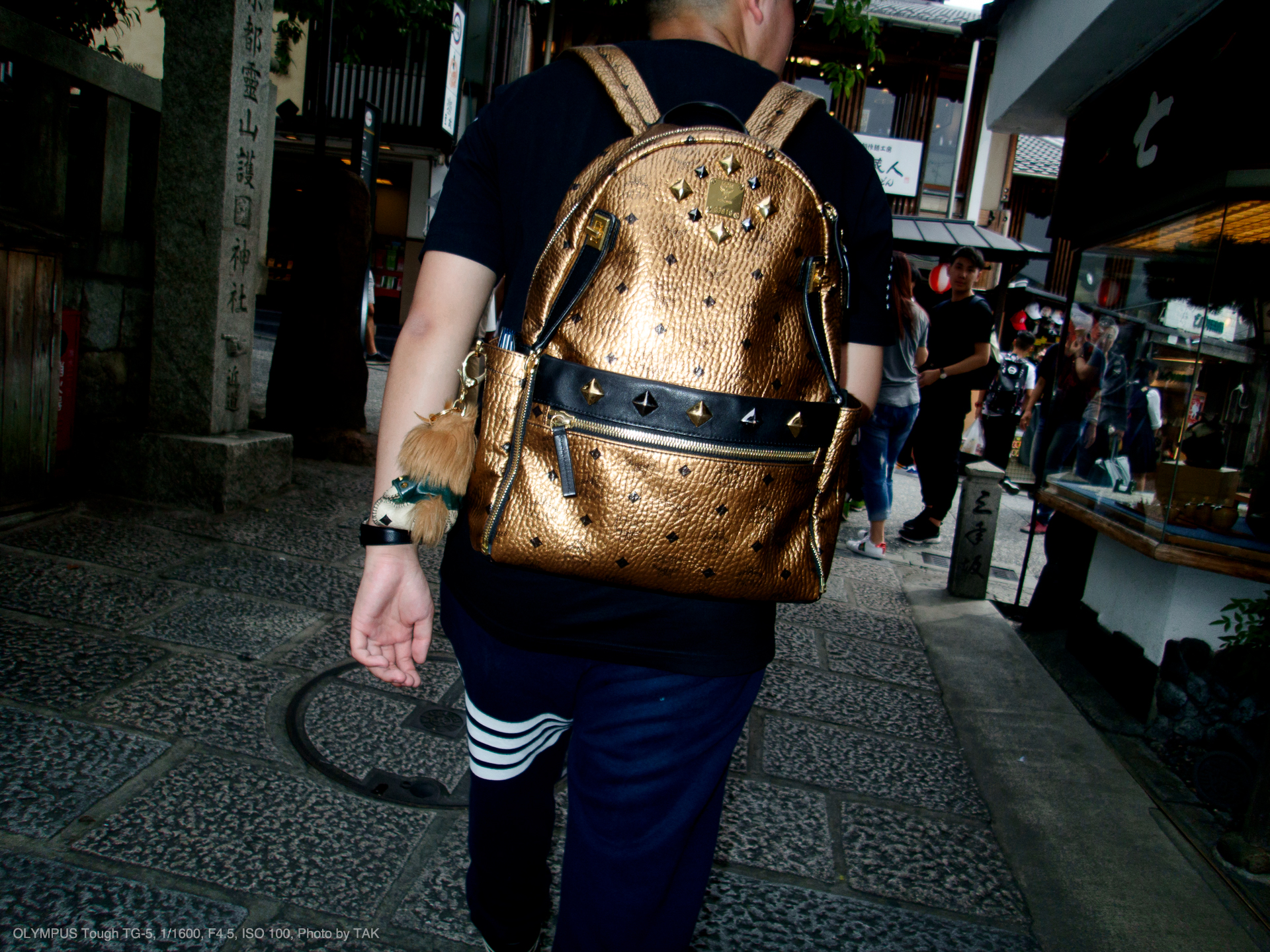 An homage to Martin Parr. What's good about a compact camera is that it has a built-in flash. Because the gold texture on the backpack looked interesting, I emphasized it using daylight flash synchronization.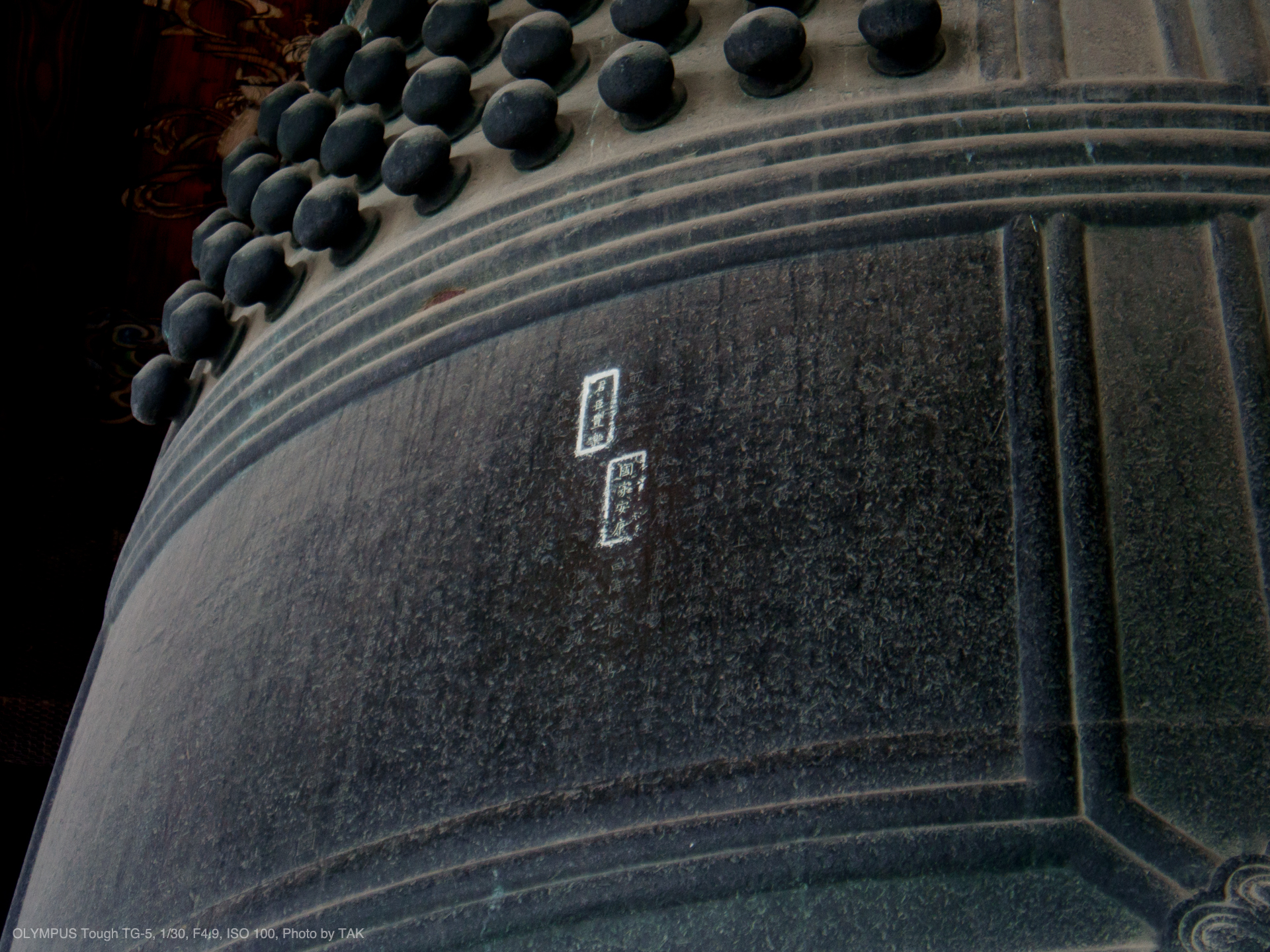 The famous letters on the bell of Hokoji-Temple are readable (The temple was made by Hideyoshi Toyotomi. The Tokugawas, who wanted to rule Japan by destroying the Toyotomis, falsely accused them by interpreting the use of the eight letters as hostility to the Tokugawas).
---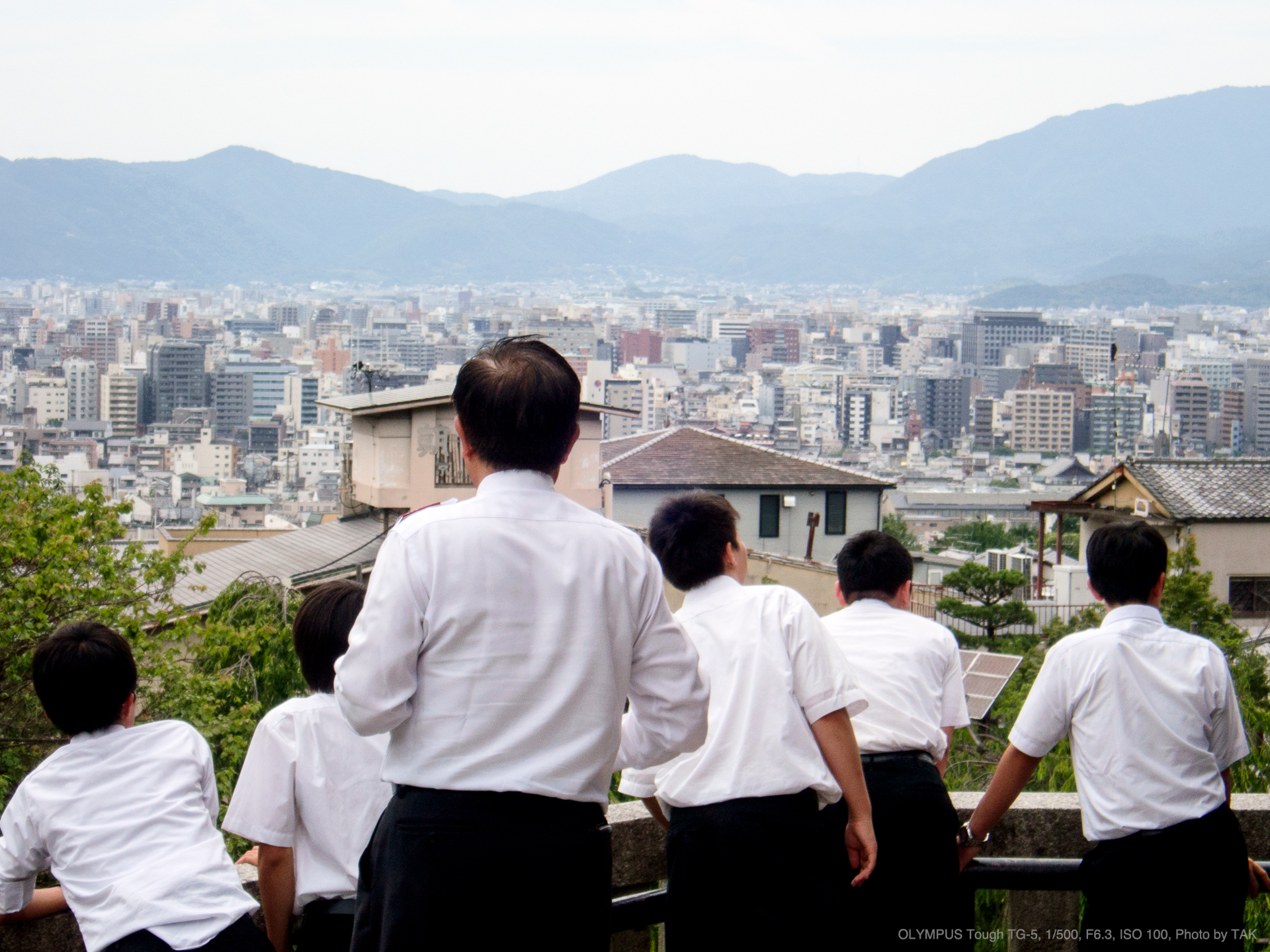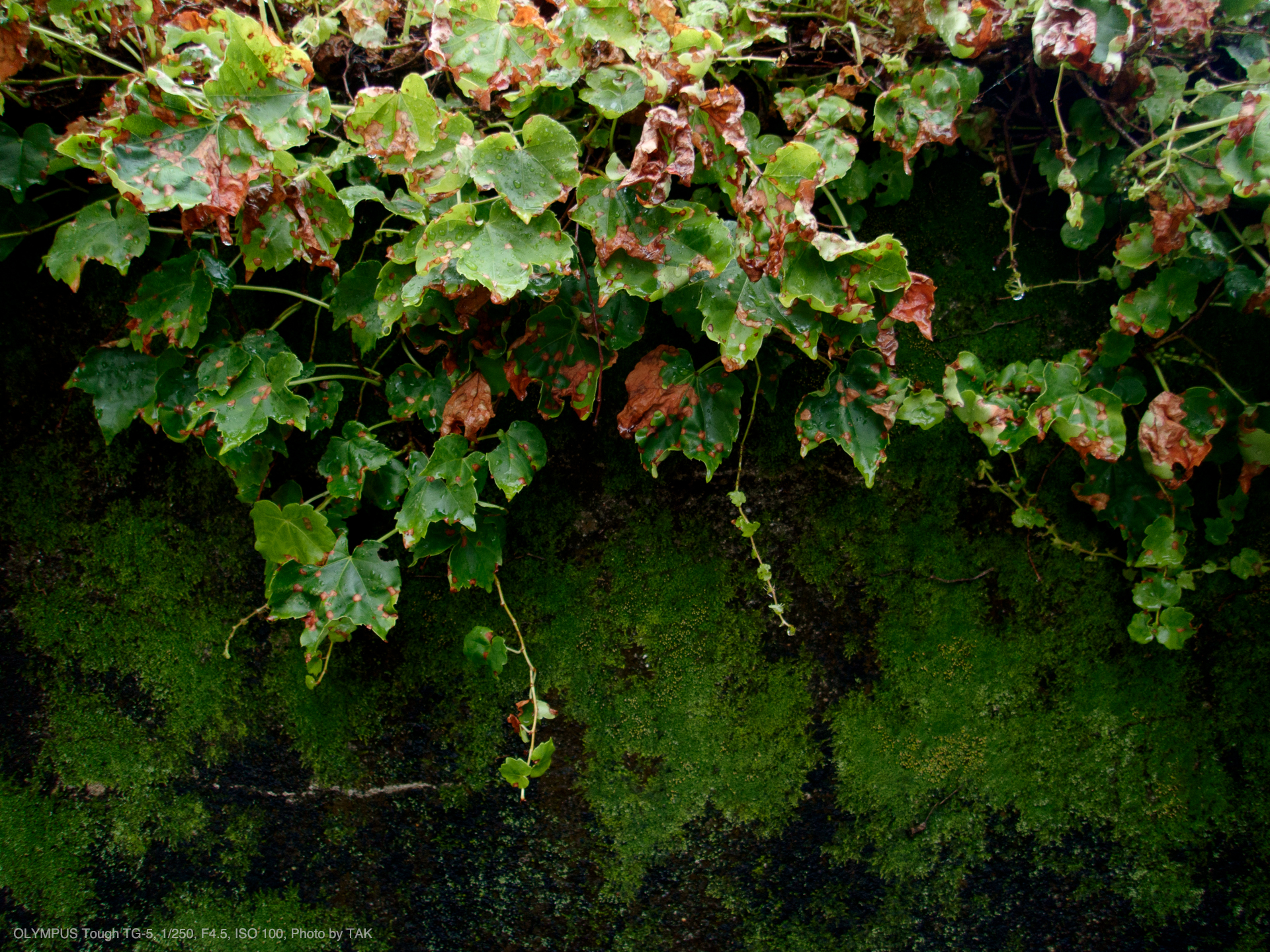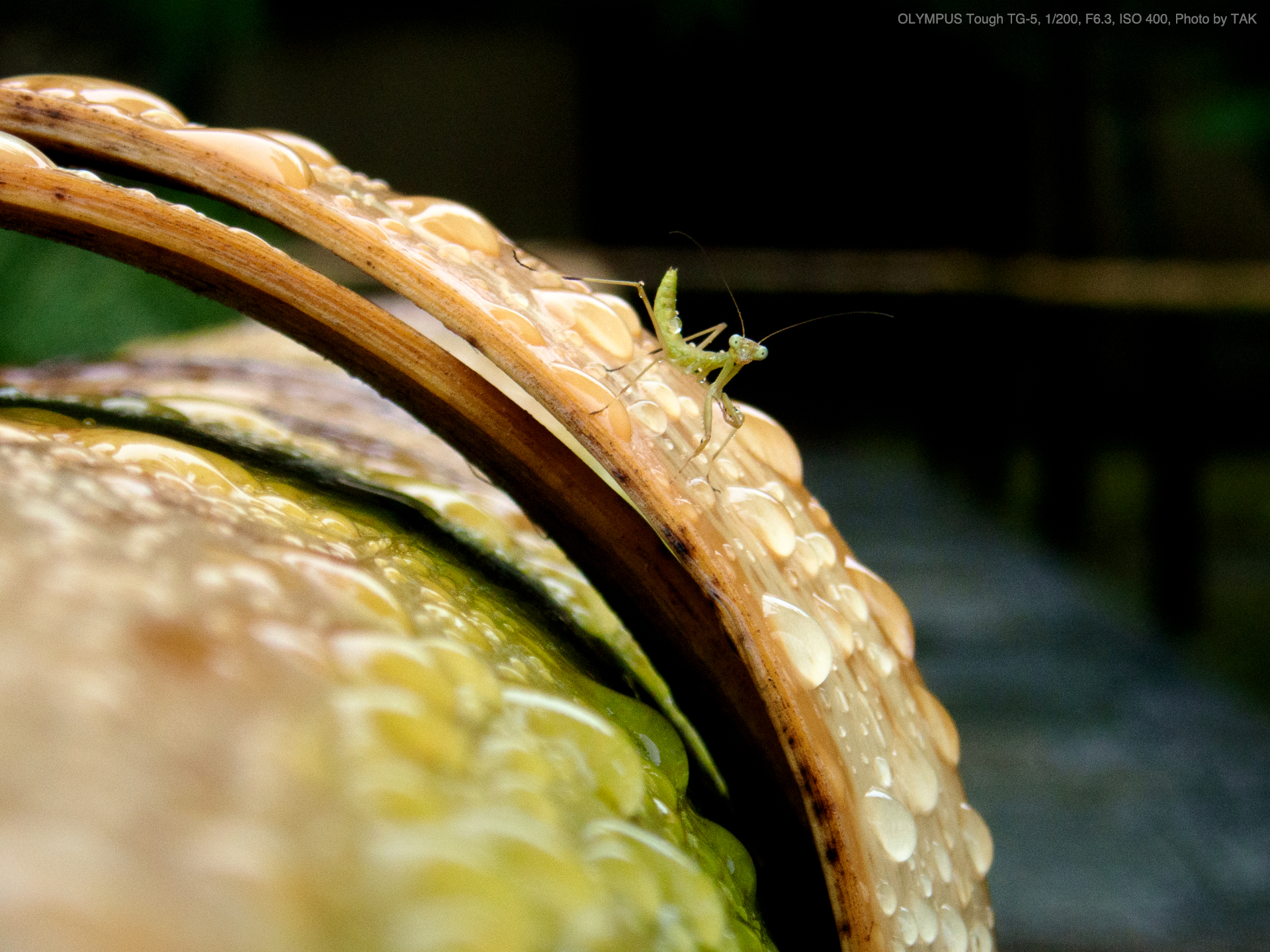 ---
Tough and clever. Like a lightweight off-road vehicle.
Just like an army knife, it does so many things and shooting it is so much fun. I can compare the TG-5 to the Suzuki Jimny because it's compact, light, and rugged. I can take it to anywhere I go and it only expands my shooting opportunity. The detailed location information gathered by the Field Sensor powerfully assists historical walk as well as other outdoor activities. Of course, it's nonsense to compare the image quality to the one of cameras with larger sensors. Yet, thanks to the new back-illuminated sensor, the F2.0 zoom lens, and the TruePic VIII image processor, image quality is significantly higher than cameras with 1/2.3-inch sensors including mobile phones. If you need higher image quality, just pick up your main camera and use the TG-5 as a super sub camera to record your activity and shoot whatever or whenever the main camera cannot shoot. Of course, the sample images prove that it's a decent main camera as well.

What is your main field? Ocean? Mountains? Rivers? For the TG-5, there's no "main" field as it shots in just about any situations. Wherever you go, the best shot is yours as nothing can prevent your shooting.
( 10.08.2017 )